Hello everyone! I know, I know... long time no post! I haven't had anything really special on my nails after my leopard print nail art from my last post. I had the very first of my pharmacy school interviews at the beginning of this month, so I've been rocking nude nails for that. Anyhow, I hope I can make up my absence with a very special post!
Today, I'd like to introduce you to my friend Lora's new jewelry line--
Pink Star Fantasy
! Lora is actually one of my very first blogging friends when I first started out with The Sneakerette.
Her blog
instantly drew my attention because of her amazing photography and graphic designs. Not to mention, her sense of style and makeup is as crazy as mine! I'm so proud of her for finally opening up shop. Even though her line is still new, I think she has some really fun pieces and I highly recommend taking a peek at her shop (
here
)!
Before I get on with the jewelry details, let me tell you guys what I used on my nails! For my base color, I started off with American Apparel
Mount Royal*
. I topped off my index and middle finger with Rainbow Honey
The Worst Possible Thing
. I used Icing
Rock Star From Mars
on the remaining tips.
Okay so if you're wondering, the super gorgeous piece featured with my nails is the
double wrap bracelet
. I love how the crystal shifts colors--so pretty!
Here's the chain bracelet with the
Aurora
crystal. It's extremely eye-catching as well!
Last but not least, here are the
Kandi
bracelets she sent me. These are a personal favorite for me because they're so fun, and they make me reminiscent of when I used to load up on bracelets as a kid. I definitely want to pick up more colors to match with all of my kicks!
Being the awesome person she is, Lora kindly provided me with a promo code for you guys--hooray! Enter code
laclac10
at checkout for 10% off (: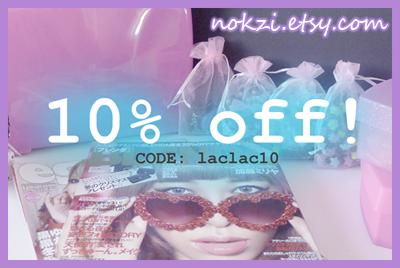 Let me know what you guys think of Pink Star Fantasy in my comment section--feedback is definitely appreciated since she's still tweaking things and making improvements to the line! You guys can also check out her blog
here
! (;